Ehrin Macksey / Noi Pictures

Ehrin Macksey / Noi Pictures

Ehrin Macksey / Noi Pictures

Ehrin Macksey / Noi Pictures

Ehrin Macksey / Noi Pictures

Ehrin Macksey / Noi Pictures

Ehrin Macksey / Noi Pictures

Ehrin Macksey / Noi Pictures

Ehrin Macksey / Noi Pictures

Ehrin Macksey / Noi Pictures

Ehrin Macksey / Noi Pictures
Fire-breathing Dragon Bridge opens in Vietnam
Da Nang is one of Vietnam's principal port cities. Located in the south-central region of the country, at the mouth of the Han River, Da Nang is an important commercial and educational center as well as a critical transportation hub.
Challenge
The Da Nang People's Committee (DNPC) sought to facilitate long-term development and strengthen regional access to and from the city. As such, they initiated a program to construct a new bridge across the Han River, linking the city with the nearby eastern seafront, the local airport and the route to the UNESCO heritage town of Hoi An.
Solution
Following an international design competition sponsored by the DNPC, Louis Berger and Ammann & Whitney, the firm's long-span bridge division, were selected by the Da Nang Municipal Engineering and Public Transportation Project Management Unit to prepare designs for the bridge. The six lane bridge emulates the shape of the dragon in the Ly Dynasty. It serves as both a tourist attraction and a boon for economic growth.
Opened in March 2013, the 666-meter-long, multi-arch structure features:
Six 3.75-meter-wide vehicle lanes.
Two 2.5-meter-wide sidewalks.
2,500 LED lights that illuminate the structure at night.
The capability to "breathe" fire or water to mark special occasions.
Construction of the Dragon Bridge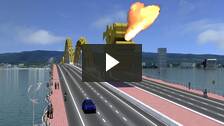 WATCH as the dragon-bridge comes to life, from driving the first pile in the bed of the Han River to construction of the dragon's scaly torso to the first fiery blast of  breath from the dragon's gigantic head.